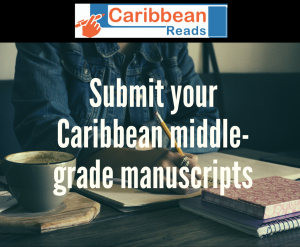 CaribbeanReads is actively seeking to acquire middle-grade novels with Caribbean settings by Caribbean authors.
Deadline
There's no deadline, we anticipate holding this open for a while so take your time and submit your best work. Your novel should be already complete and ready to send if we ask to see the full work. Be sure to be familiar with this genre before writing. If you don't like reading this type of book, you're unlikely to enjoy writing it.
What's a middle-grade novel?
These are books for readers in the last years of primary school and early years of high school. These readers are beyond picture books and early chapter books but not ready for the themes in YA novels.
Age range of readers: 8-13 years. This is a large range and will include simpler, shorter books for the 8-10 range and slightly longer, more involved ones for the 11-13 year olds.
Length: 15,000 – 50,000 words. This is a guide. There are longer middle-grade books.
Character ages: 10-14 years old. Generally children like to read up, so the protagonists should be slightly older than the children in your target age range. They can't be too old or the concerns that are most realistic for your characters will be too advanced for your readers.
General features:
The story must have a compelling plot line and at least one sub-plot (this is one of the features that distinguishes the middle-grade novel from the earlier books).
Adults should have minor roles. They should never step in to solve the children's problem.
The book should show a clear understanding of the protagonist's point-of-view and concerns as a child.
The books may be one of a variety of sub-genres: realistic, fantasy, historical, humorous, etc.
Common themes:
Friendship
Overcoming fears
Overcoming adversity
Good versus evil
Honesty
Loyalty
Embracing Diversity
Family
These are just examples, middle-grade books cover a wide range of themes.
They can include discussions of politics, mental illness, violence, romance (G/PG), and identity. Humour is also a bit hit with middle-grade books.
What are we looking for.
Authentic Caribbean setting.
The books should not be didactic. Your primary aim should not be to teach your readers a moral or life lesson. If that happens, it's fine but your main intention should be to tell a compelling story about interesting characters.
No folktales. We love folktales but it's not what we're looking for now. If the stories show Caribbean folklore, history, past cultural norms, that's great, but it should be a natural outgrowth of the story.
Have fun! Your enthusiasm for your characters and their story will show in your writing.
We expect reasonably polished work. Chosen books will be edited for publication but the work you submit should be generally free of grammatical and logical errors. Please don't submit your first draft.
What you should submit.
Synopsis of your book, including your assessment of why it will appeal to the target audience (not more than 750 words);
Thirty pages of the novel, double-spaced in a standard 12-point font (approximately 6,000 words);
Author biography including your connection to the Caribbean (not more than 150 words);
Synopsis of a middle-grade book you've recently read (not more than 250 words) and about 200 words on why you think that book appeals to its target age-range.
Please pay careful attention to the instructions and send all of the information listed above in a Work document or pdf to: submissions at caribbeanreads dot com with the subject line Middle-Grade submission.
We would love to have some first-time authors and so we're also planning a series of free online middle-grade novel writing workshops. Read about the first one here. Join our mailing list and/or join us on FaceBook to be sure you hear about it when it's time to apply.