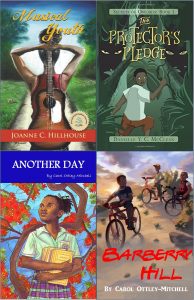 CaribbeanReads will be publishing two YA novels in 2017, bringing our total YA offerings to four. Since CR is a small publisher, this is significant. Three of the four books have been recognised by the Burt Award for Caribbean Literature, Musical Youth was a 2014 winner, The Protector's Pledge was a 2016 winner, and Barberry Hill was one of six finalists in 2016. So why is YA literature being given such a spotlight on the Caribbean front?
The term "young adult literature" can be hard to define. One would think that it means books that appeal mainly to a particular age range-teenagers. However, with adults being the most prolific readers of YA, it is clear that YA is more than a target age. Young Adult literature has come to mean 'coming of age' literature in which the central characters-usually teenagers-are impacted by the events in the book in a way that leaves them a step closer to adulthood.
YA books typically handle issues that are not addressed in the same way in books for younger children or adult literature for that matter. They tackle life complexities with which most teenagers are having their first experiences such as romantic love, fitting in, abandonment, family breakdown, drugs, sex, politics, and more. Often these themes are wrapped within a larger story, but whether the protagonists are embroiled in a fight with mystical creatures (as in The Protector's Pledge) or in a true-to-life setting (as in Musical Youth, Another Day, and Barberry Hill), when you strip the book down to its bare minimum you should find a teen struggling against adversity to become more.
So, are these books important beyond their pure entertainment value? Definitely. They can play a key developmental role in a teen's life.
Having these new experiences vicariously through books can be a safe way for teens to learn about life and to be inspired by the way that other teens overcome challenges.
Reading these stories can engender empathy for others, a very important skill in our day-to-day lives.
For children who may be in the midst of situations similar to those being faced by the protagonist, a YA book may provide a sense of comfort and a jumping-off point for discussing their problems with friends and an adult. It is much easier for a teen to present a book to an adult and say: "This is what is happening to me" than to find the words to describe how they are hurting.
Caribbean YA novels are important to our young people because, while the challenges of growing up are ubiquitous, every culture has a particular spin. Caribbean teens need support in their particular brand of coming-of-age. One example is colourism, a theme addressed in Joanne C. Hillhouse's Musical Youth. While this problem may be endemic to the Caribbean or to people of African descent, being rated based on a physical feature is a concept with which all teens are familiar.
The world needs to read about how life impacts Caribbean teens and to understand that the Caribbean is a part of the global scene. Books, even fictional ones, play a key role in how the past is viewed. The Caribbean voice must be part of the collection of stories being told.
So how do we adults help this important movement? Write YA novels and share YA novels not just with Caribbean teens but with teens worldwide.