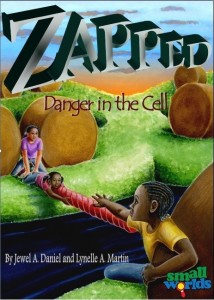 Looking for something to keep your middle-grade children's brain active this summer? Check out "Zapped! Danger in the Cell". (Pre-order your autographed copy today.)
When  a mysterious machine shrinks Sonya, Lynelle, and Giselle to microscopic proportions they become so small that they slip through the walls of a cell and the three girls find themselves caught up in a roller coaster of an adventure that has them running for their lives.
Do they ever escape?
Pre-Order Zapped! to find out!
Zapped! is the first book in the Small Worlds series written by Jewel Daniel and Lynelle Martin. The book is being published by CaribbeanReads and is illustrated by Ann-Cathrine Loo. It is aimed at middle-grade readers and will be available in July.
St. Kitts born Jewel is a cell biologist, author and educator who combines her love for science and books to teach kids about the exciting microscopic world of the cell. She already has three publications under the pen name Jewel Amethyst, A Marriage of Convenience, Holiday Brides, and Pretty Little Liars: Indiscretion. Zapped is her first children's novel.
Lynelle is the star of this show. She is a rising middle school student with an avid interest in science and adventure. Zapped is her debut novel, but she has already written the sequel and plans to work on book 3 this summer.
Visit our Order page to reserve your autographed copy of Zapped! for $6.99. Shipping charges may apply for non-US customers.