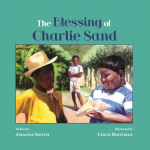 Publishers make mistakes. My daughter takes great pride in pointing out errors in the books that she reads and there are many, regardless of whether the book is published by large, medium, or small presses. I won't get into the fact that small presses are held to a much higher standard than large ones so even the most minute of errors are highlighted as an indication of ineptitude. This post is not about that particular soapbox.
We have made errors at CaribbeanReads, not many, but they have existed. I remember publishing my first book, Adventure at Brimstone Hill and going back and forth with the printers about having a spine on the book although it was less than 100 pages. I was so focused on the existence of the spine that I did not notice a spelling error on it until after the first run.
Luckily there has not been anything quite as dramatic since, or at least none that we care to mention. That is up until the publication of The Blessing of Charlie Sand. We loved this story by Amanda Smyth right away, hunted down and hired the incredibly talented illustrator, Colin Bootman to do the illustrations, but for various reasons the execution of the first edition was not up to our usually high standards.
My dad used to tell the story of a Mercedes Benz breaking down and Mercedes replacing the car immediately and disavowing any knowledge of the incident whatsoever. We would love to do the same. We will be releasing the second edition of Charlie Sand in a few days, replacing all book store copies of the first edition, and obliterating the memory of edition one.
So, what about the free stuff? We'll be hosting a giveaway in March for Charlie Sand. All you have to do is enter the contest, visit our FaceBook page and you will be entered to win a copy of the book. The giveaway starts on March 1 so keep a look out for more information.