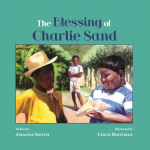 Best friends Sirus and Bubba fit together like salt fish and bakes. That is until Charlie Sand moves into town. All of a sudden Bubba is having adventures with his new friend and Sirus doesn't fit in. Can he find a way to share Bubba's friendship with Charlie Sand?
Set in Trinidad and aimed at children aged 6-10, the Blessing of Charlie Sand is a heart-warming story of friendship author, Amanda Smyth and illustrated by Colin Bootman.
Praise for The Blessing of Charlie Sand
"Kids will love both story and pictures in this warm tale of friendship and magic." —Olive Senior, author of Anna Carries Water and many other titles.
"The Blessing of Charlie Sand will inspire children to trust in the wisdom that comes from both beyond and within. The emotionally measured text and the immediacy of Bootman's understated illustrations draw the reader in." —Summer Edward, children's book editor and founder of Anansesem
Amanda Smyth is Irish-Trinidadian. Her award winning first novel, Black Rock (Serpent's Tail), was chosen for Oprah's Summer Reads for 2009. Amanda's second novel, A Kind of Eden was published in July 2013. She teaches Creative Writing at Arvon and Skyros. The Blessing of Charlie Sand is her first children's book.
Colin Bootman is the Trinidadian illustrator of many children's books and the recipient of the 2004 Coretta Scott King Illustrator Honor for his illustration of Almost to Freedom, written by Vaunda Micheaux Nelson
Enter to win a free copy of this book. The second edition of The Blessing of Charlie Sand will be on sale on March 16.