Lynelle and Jewel presented Zapped at a Baltimore elementary school on Friday 14th November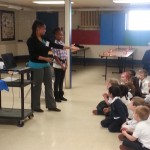 . The school culminated their celebration of National Youth Reading Week by inviting them to discuss Zapped with their students kindergarten through fifth grade. This was eleven year old Lynelle's first experience doing a school visit, so it was both exciting and nerve-racking.
From the teachers:
"We had an excellent presentation by Authors Jewel Daniel and her daughter Lynelle Martin on Friday. Students were able to hear parts of the story, act out a scene, and complete an interactive activity constructing a cell. Students who didn't pre-order a book asked about possibly purchasing the book after hearing about what the book is about." 1st grade teacher.
"Thank YOU! You were both awesome and inspirational!" Kindergarten assistant.
From the authors:
Jewel: Having taught at the college level for the past few years and knowing the difficulty adults have in understanding the biology of the cell I never thought kids so young could be so receptive and excited over things they cannot see. But the kids at Our Lady of Mt Carmel were really wonderful, curious and imaginative. Zapped really turned them on, not only to reading but stimulated their interest in learning about the cell.
Lynelle: It was interesting to talk to the kids from my old school. Some of them were my classmates last year. They were really enthusiastic. We wanted only four kids to volunteer for acting out of the scene from the book, but we had so many volunteers it was hard to choose. When we presented to the younger kids it brought back memories of the times I used to read to first graders and kindergartners when I was in fifth grade.
Visit our book store to purchase your copy of Zapped! Danger in the Cell today.