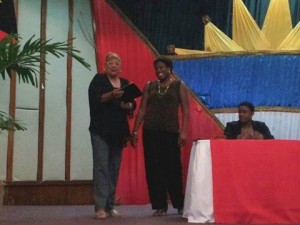 On November 20, 2014 Director General of the National Commission on Science and  Technology (NCST), Professor Errol Morrison delivered the address at the 12th Annual Distinguished Leonard Tim Hector Memorial Lecture in Antigua. As a part of the event, the Leonard Tim Hector Memorial Award was presented to CaribbeanReads author, Joanne C. Hillhouse, for her perennial and exemplary contributions to the advancement of Antigus, especially in areas of journalism, literary arts, and the development of our youth.
The late Leonard Tim Hector is described as an Antiguan writer, publisher, politician, educator, culturalist, journalist, historian and cricketeer.
He published the newspaper The Outlet and the online column "Fan the Flame". Some of his writings express views very much in line with the CaribbeanReads mission to produce books that tell the stories of Caribbean people.
"When I was younger, and at university my friends used to tell me that West Indian poetry and novels were too real, "too full of the emptiness of life around us" one wrote and "giving little by way of hope" another friend wrote to me. I replied we grew up on the alien "daffodils" which we knew not, on cowboys' rustlers and assorted crooks in the wild, wild west, so literature always seemed distant. And nothing enhances the view like distance. Our own story near at hand and familiar did not seem like a story worth telling for we thought of ourselves as of little worth in the global scheme of the young and the restless or the bold and the beautiful."
From: "Fan the Flame" by Leonard "Tim" Hector (by way of Geoffrey Philp's blog.)
West Indian literature has evolved and expanded beyond the type of writing that Mr. Hector's friends described. But we must continue to challenge ourselves and to see ourselves, our thoughts, and experiences as worthy and interesting of being recorded and read not only by our own people by worldwide.