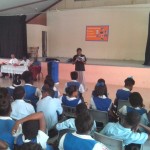 This February, Musical Youth author Joanne Hillhouse has been on tour, visiting high schools in Antigua and sharing her book. The reception was wonderful and we look forward to supporting her efforts to do much more to introduce that all-important love of reading to as many students as possible.
Read more on Joanne's blog:
St. Mary's Secondary School
Clare Hall Secondary
Antigua Girls High School
Here are some photo highlights.