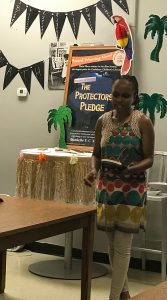 Third and fourth grade students at the Benjamin Orr Elementary School in DC were treated today to a visit from author and publisher Carol Mitchell of CaribbeanReads Publishing. Mrs. Mitchell was representing Danielle Y C. McClean author of The Protectors's Pledge.
"The children were extremely attentive to the reading," Mrs. Mitchell commented. "They begged me to continue after I stopped and we had a lively discussion about some of the ideas generated just in the first chapter, for example, parallels between mythical creatures of the Caribbean and creatures they have heard about, similarities between JV's behavior towards his grandmother and their behavior towards their guardians, the significance of a Protector and a Pledge."
The author, Ms. McClean made a surprise visit by video during the presentation.
Each of the children received a copy of The Protectors' Pledge, bookmarks, and puzzles compliments of CaribbeanReads Publishing.
(Image-Carol Mitchell reading from The Protectors' Pledge by Danielle Y. C. McClean)