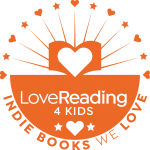 A part of the journey to launching a look involves seeking out book reviews. So far, The Talking Mango Tree (available for preorder today; launch is March 1, 2021) has garnered many positive reviews, our favorite by eight-year-old Joshua Orr. Today's reviews are from LoveReading4Kids one of the biggest UK recommendation sites for children's books. Here are excerpts from the reviews received:
Absolutely beautiful! First of all, the illustrations are superb. They are bright, colourful and draw the eye wonderfully. They help to tell the story well and I adored them. The animals all came to life through the vibrancy and lines of the illustrations.
Now to the story. I read this book with three hats on. First, my mum hat, second my primary school teacher hat and finally my bibliophile hat. This book ticked every single box. It was written well, using simple enough but engaging language. It made you want to turn the page to see what was going to happen next. It made you think about possible scenarios, for example what sorts of things might other animals be asked to do? And most importantly, it ended with a big happy smile on my face and a little chuckle.
This is definitely a book I would read to my children and also to my class. I love the fact that some of the proceeds go to helping literacy in the Caribbean as well. I need a physical copy of this on my shelf.
The bright and colourful illustrations match this text very well. I especially liked the birds' eye view from the top of the tree on pages 2 – 3. This simple tale uses the familiar and traditional theme of repetition which children enjoy. I loved seeing the various animals performing their requested actions and the way in which they all came together at the end. I noted also that a percentage of the sales will support literacy in the Eastern Caribbean which is commendable.
A great story for younger children with colourful pictures and plenty to talk about with them. New readers will also learn – using some repetitive phrases and the pictures to help them work out some of the words if they don't recognise them.
A.H.Benjamin has written around 50 picture books for young children over the past 35 years and in his latest, 'The Talking Mango Tree', he shows no sign of running out of ideas for them. He uses a classic format to introduce his readers to a succession of animals trying to solve a riddle and there is a happy ending for all. This book is a joy to read and very beautifully illustrated on every page by Daniel J.O'Brien. The animals are real characters and, though Papa Bois may seem a little scary at first, he and all the woodland residents end up enjoying themselves in friendly and good-natured companionship. A lovely book to read together and learn at the same time.