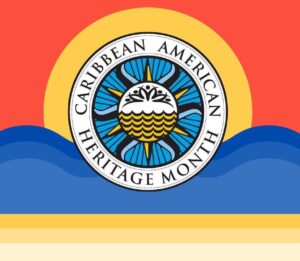 We are so happy to unveil the official list of Caribbean reads for the 18th Annual National Caribbean American Heritage Month (NCAHM).
There are many activities planned for June 2023. Find out more and celebrate National Caribbean American Heritage Month with us!
Don't miss a thing. Register for all of NCAHM's book-related activities.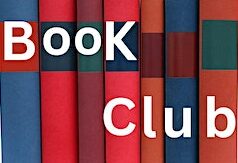 Enjoy the book list!
---
FICTION
Black Cake by Charmaine Wilkerson (Ballentine Books 2022)
Two estranged siblings delve into their mother's hidden past—and how it all connects to her traditional Caribbean black cake—in this immersive family saga, "a character-driven, multigenerational story that's meant to be savored".

Join our book club discussion of Black Cake on June 13 at 7 p.m. online.

Daylight Come by Diana McCaulay (Peepal Tree Press 2020)
It is 2084. Climate change has made life on the Caribbean Island of Bajacu a grueling ordeal. The sun is so hot that people must sleep in the day and live and work at night, all the time under brutal Domin rule. Food is scarce, and people over forty are expendable.

Join our discussion with Diana McCaulay on June 7 at 7 p.m. online.

Fortune by Amanda Smyth (Peepal Tree Press Ltd. 2022)
Eddie Wade has recently returned from the US oilfields. He is determined to sink his own well and make his fortune in the 1920s Trinidad oil-rush. Fortune, based on true events, catches Trinidad at a moment of historical change whose consequences reverberate down to present concerns with climate change and environmental destruction. A story of love, ambition, and tragedy.
Hungry Ghosts by Kevin Jared Hosein (Harper Collins 2023)
From an unforgettable new voice in Caribbean literature, a sweeping story of two families colliding in 1940s Trinidad—and a chilling mystery that shows how interconnected their lives truly are.
If I Survive You by Jonathan Escoffery (MacMillan 2022)
A major debut, blazing with style and heart, that follows a Jamaican family striving for more in Miami, and introduces a generational storyteller.
The Island of Forgetting by Jasmine Sealy (HarperCollins 2022)
The Island of Forgetting is an intimate saga spanning four generations of one family who run a beachfront hotel. Loosely inspired by Greek mythology, this is a novel about the echo of deep—and sometimes tragic—love and the ways a family's past can haunt its future.
The Islands by Dionne Irving (Catapult 2022)
The Islands follows the lives of Jamaican women—immigrants or the descendants of immigrants—who have relocated all over the world to escape the ghosts of colonialism on what they call the Island. Set in the United States, Jamaica, and Europe, these stories examine the lives of an uncertain and unsettled cast of characters.

Join our book club discussion of The Islands on June 20 at 7 p.m. online.

Moon Witch, Spider King (The Dark Star Trilogy Book 2) by Marlon James (Riverhead Books 2019-2022)
Sogolon the Moon Witch takes center stage and gives her own account of what happened to the mysterious boy she sought in Book 1, and how she plotted and fought, triumphed and failed as she looked for him.
Neruda on the Park by Cleyvis Natera (Penguin Random House 2022)
An exhilarating debut novel following members of a Dominican family in New York City who take radically different paths when faced with encroaching gentrification.
Now Lila Knows by Elizabeth Nunez (Akashic Books 2022)
Caribbean professor Lila Bonnard arrives in Vermont for a short-term teaching position and is forced to confront the terrible legacy of American (in)justice.
One Day, One Day Congotay by Merle Hodge (Peepal Tree Press Ltd. 2022)
This is the story of one woman's life; that of Gwyneth Cuffie, a seemingly ordinary woman: teacher, lover of children and music, and pillar of her community. Beautifully written and deeply compassionate, the novel follows Gwynneth's life as she charts her own path through the turbulent times of her island and struggle against colonialism.
Pleasant View by Celeste Mohammad (Ig Publishing 2021)
Coconut trees. Carnival. Rum and coke. To many outsiders, these idyllic images represent the so-called easy life in Caribbean nations such as Trinidad and Tobago. However, the reality is far different for those who live there—a society where poverty and patriarchy savagely rule, and where love and revenge often go hand in hand. Written in a combination of English and Trinidad Creole, Pleasantview reveals the dark side of the Caribbean dream.
River Sing Me Home by Eleanor Shearer (Berkley 2023)
This beautiful, page-turning and redemptive story of a mother's gripping journey across the Caribbean to find her stolen children in the aftermath of slavery is a "celebration of motherhood and female resilience" (The Observer).
What a Mother's Love Don't Teach You by Sharma Taylor (Virago 2022)
A powerful story of belonging, identity and inheritance, What a Mother's Love Don't Teach You brings together a blazing chorus of voices to evoke Jamaica's ghetto, dance halls, criminal underworld and corrupt politics, at the beating heart of which is a mother's unshakeable love for her son.
When We Were Birds by Ayanna Lloyd Banwo (Doubleday 2022)
A mythic love story set in Trinidad, Ayanna Lloyd Banwo's radiant debut is a masterwork of lush imagination and exuberant storytelling—a spellbinding and hopeful novel about inheritance, loss, and love's seismic power to heal.


---
NONFICTION and POETRY and PLAYS
6 Poems by Lasana M. Sekou (House of Nehesi 2022)
Discover the magic of St. Martin poetry and celebrate the unique heritage of this island with 6 Poems by Lasana M. Sekou, the first companion edition to the poetry exhibition project of Amuseum Naturalis. Presented in English, French and Spanish, these poems are a perfect introduction to the poetry and literature of St. Martin.
The Colour of Forgetting by Merle Collins (Peepal Tree Press 2023)
Set on the Caribbean island of Paz (not a million miles from Grenada), this is a book that creates and occupies a space between epic poetry and the novel in the way its sequence of interludes bring into focus the lives of family and community through time – and in the confinements of small island space. It moves from the days of slavery through to the 1980s, through the difficult inheritance of one family – or rather the disinheritance of those in the family born illegitimate.
The Disordered Cosmos: A Journey into Dark Matter, Spacetime, and Dreams Deferred by Chanda Prescod-Weinstein (Bold Type Books 2021)
From a star theoretical physicist, a journey into the world of particle physics and the cosmos — and a call for a more just practice of science.
Dougla in the Twenty-First Century: Adding to the Mix by Sue Ann Barratt and Aleah N. Ranjitsingh (University Press of Mississippi 2021)
Identity is often fraught for multiracial Douglas, people of both South Asian and African descent in the Caribbean. In this groundbreaking volume, Sue Ann Barratt and Aleah N. Ranjitsingh explore the particular meanings of a Dougla identity and examine Dougla maneuverability both at home and in the diaspora.
Elegguas by Kamau Brathwaite (Wesleyan University Press 2021)
Kamau Brathwaite is a major Caribbean poet of his generation and one of the major world poets of the second half of the twentieth century. Elegguas―a play on "elegy" and "Eleggua," the Yoruba deity of the threshold, doorway, and crossroad―is a collection of poems for the departed.
Honeyfish by Lauren K. Alleyne (New Issues Press, 2018 (US) & Peepal Tree Press, 2019 (UK))
The title Honeyfish comes from a transliteration of the Greek word, Μελανούρι, which is a kind of fish (saddled bream to be precise). However, the poem and the book are really more about figuring out what kind of being one is, what one can become, what names one can claim or is claimed by, and how one translates oneself across the various contexts one encounters.
Hurricane Watch by Olive Senior (Carcanet Press Ltd 2022)
Hurricane Watch: New and Collected Poems brings together Jamaican Poet Laureate Olive Senior's first four books of poetry alongside a new collection. Recipient of the Musgrave Gold Medal in 2005 from the Institute of Jamaica, Senior has long been recognised as a skillful and evocative storyteller, but what this book shows is the consistency and range of her achievement
No Ruined Stone by Shara McCallum (Alice James Books (US) & Peepal Tree Press (UK) 2021)
No Ruined Stone is a verse sequence rooted in the life of 18th-century Scottish poet Robert Burns. In 1786, Burns arranged to migrate to Jamaica to work on a slave plantation, a plan he ultimately abandoned. Voiced by a fictive Burns and his fictional granddaughter, a "mulatta" passing for white, the book asks: what would have happened had he gone?
Resetting Our Future: SMART Futures for a Flourishing World: A Paradigm Shift for Achieving Global Sustainability by Claire A. Nelson (Changemakers Books 2021)
Has the COVID-19 pandemic derailed the global community's commitment to achieving the UN Sustainable Development Goals by 2030? Are we heading for environmental collapse? Can we avert a climate catastrophe and enable peace, justice, and shared futures for humanity? These questions call for transformational change. This book explores the root causes of today's failures and lays out a plan for real-world innovation.
Still Standing by Adom Philogene Heron Photographs by Marica Honychurch (Papillotte Press, 2022)
This beautifully illustrated book is a celebration of the vanishing vernacular architecture of Dominica. These small wooden homes, ingeniously crafted and carefully adapted to their environment, have withstood hurricanes and earthquakes since their emergence in the post-emancipation period.
---
CHILDREN and YOUNG ADULTS
Climb On! by Baptiste Paul, illustrated by Jacqueline Alcántara (NorthSouth Books 2022)
When a young child reminds her dad about the hike they planned, her father is hesitant —To the tippy top of the Pitons? Filled with setbacks, surprises, and stunning views, this warm and humorous story highlights in vivid colors the bonding power of a shared experience.
The Legend of the Spirit Serpent by Adaiah Sanford illustrated by Ken Daley (Reycraft Books 2022)
This modern retelling of a traditional Kalinago legend from the Caribbean island of Dominica recounts the story of a huge serpent who once guarded the indigenous people. This book is the winner of the 1st Annual Caribbean Writer's Contest sponsored by Reycraft Books and the Ducreay Foundation.
Pretty Like Jamaica by Opal Palmer Adisa illustrated by Wayne Powel (CaribbeanReads 2023)
Precious loves all of the joys of her life with her grandmother in Jamaica but she misses her mother who lives in the United States. When her mother finally sends for her, Precious finds herself torn between the home she has always known and her longing to be with her mother.
The Whisperer's Warning by Danielle Y. C. McClean (CaribbeanReads 2022)
12-year-old JV has discovered that he's one of a select few entrusted with preserving the balance between the world's natural and unnatural realms. When J.V and his friends receive a cryptic warning from a creature in the Oscuros Forest, they embark on a quest to protect the village from the foretold doom.
The Year I Flew Away by Marie Arnold (Versify 2021)
In this magical middle grade novel, ten-year-old Gabrielle finds out that America isn't the perfect place she imagined when she moved from Haiti to Brooklyn. With the help of a clever witch, Gabrielle becomes the perfect American—but will she lose herself in the process?