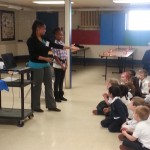 PhD cell biologist, Jewel Daniel and 11 year old science enthusiast, Lynelle Martin make a great team for author visits. Their presentations involve a mixture of reading, discussions, craft, and audience participation that harness the attention of the children in their audience.
These students come away with:
an increased interest in reading,
new knowledge about the biology of the cell, and
inspiration at seeing someone in their age range speaking to them as an author.
The presentations can be tailored to younger children but are most suitable for US grades four to six depending on your school's curriculum.
If you are the parent of elementary school aged children or you are a teacher or principal in the United States and you would like to find out about having Jewel and Lynelle visit your school, contact us by email at
info[at]caribbeanreads[dot]com.
About Zapped! Danger in the Cell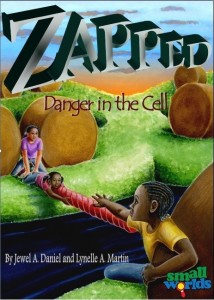 When a mysterious machine shrinks Sonya, Lynelle, and Giselle to microscopic proportions they become so small that they slip through the walls of a cell and the three girls find themselves caught up in a roller coaster of an adventure that has them running for their lives.
Do they ever escape?
Get your copy of Zapped! Danger in the Cell to find out!
About the Authors
Zapped! is the first book in the Small Worlds series written by Jewel Daniel and Lynelle Martin. The book is being published by CaribbeanReads and is illustrated by Ann-Cathrine Loo. It is aimed at middle-grade readers and will be available in July.
St. Kitts born Jewel is a cell biologist, author and educator who combines her love for science and books to teach kids about the exciting microscopic world of the cell. She already has three publications under the pen name Jewel Amethyst, A Marriage of Convenience, Holiday Brides, and Pretty Little Liars: Indiscretion. Zapped is her first children's novel.
Lynelle is the star of this show. She is a rising middle school student with an avid interest in science and adventure. Zapped is her debut novel, but she has already written the sequel and plans to work on book 3 this summer.
Buy your copy today on Amazon. For bulk orders please email
orders(at)caribbeanreads[dot]com.