(I hope that you love to brush your teeth. You don't want to end up like Molly!)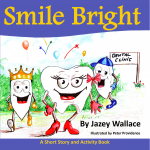 Molly doesn't feel well. Thank goodness for her friends Harry and Tom who know just what teeth need to get well and stay healthy. Join the friends on an adventurous journey to Dr. All Smiles Dental Clinic. Will the friends get to the dentist's office before Molly feels worse?
Aimed at children aged 2-6, Smile Bright is a short story and activity book. This engaging story is illustrated with bright, interesting images. As a bonus, there are some fun activities at the end of the book.
Author Jazey Wallace has been writing poetry and short stories all of her life. She came up with the idea of creating Smile Bright, a fun dental story for children, while working as a Certified Dental Assistant in her homeland of St Vincent & the Grenadines. Smile Bright is her first publication.
Illustrated by Peter "Provi" Providence. He is a self-tutored Caribbean artist. Born on the island of St. Vincent he began painting at the age of 13 and has a passion for blending nature with culture in a realistic style. His artwork has found appreciation in St. Vincent, regionally, and internationally and is also available as postcards prints.
Smile Bright is published by CaribbeanReads. Purchase your copy at our book store. For bulk orders, email orders@caribbeanreads.com.