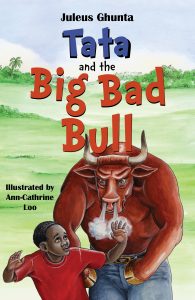 Tata loves going to school, but the only way he can get there is through Pellken Pasture, which is fiercely guarded by the Big Bad Bull. Can Tata figure out how to get past the angry bull and make it to school on time?
Written by Juleus Ghunta and illustrated by Ann-Cathrine Loo
Tata and the big Bad Bull will be released in May 2018.
ISBN: 9780999237243 Paperback
978-0-9992372-5-0 Hard cover
Library of Congress Control Number: 2018900760
Stay tuned for information on ordering your copies of this beautiful book.
Interested in reviewing Tata and the Big Bad Bull or one of our other titles?
Contact CaribbeanReads with your request. Let us know why you are interested in reviewing a book and provide links to previous book reviews, if available.