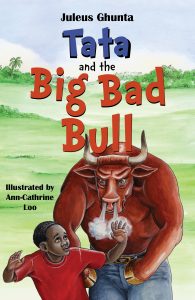 Tata loves going to school, but the only way he can get there is through Pellken Pasture, which is fiercely guarded by the Big Bad Bull. Can Tata figure out how to get past the angry bull and make it to school on time?
Written by Juleus Ghunta and illustrated by Ann-Cathrine Loo
ISBN: 9780999237243 Paperback
978-0-9992372-5-0 Hard cover
Library of Congress Control Number: 2018900760
What people are saying about Tata and the big Bad Bull
Author Loretta Collins-Klobah: "The exuberant, rocking rhythms of Juleus Ghunta's rhyming story and the appealing and adventurous human and animal-filled illustrations by Ann-Catherine Loo draw the reader into the world of Tata and his grandmother. … Children and adults will enjoy and relate to this book immensely, but it also addresses in positive terms how to deal with bullying on individual and community levels. I recommend Juleus Ghunta's book unreservedly."
Author Geoffrey Philp: "Beautifully illustrated by Ann-Catherine Loo and written in loose verse, young readers from the Caribbean will not only learn about prepositions and other age appropriate language skills, they will be introduced to young hero who resembles them. In this delightful tale, they will also learn that any obstacle may be overcome by using their minds and that perseverance is a gift in itself."
Author Robyn Stephenson:  "The story teaches empathy with a gentle hand, and reminds children how important it is to be considerate of other people's feelings. Tata is a light and engaging read with plenty of pictures that is sure to speak to readers of all ages."
The Old Schoolhouse Magazine: "Overall, this is an excellent story for toddlers up through upper elementary aged children. It presents good character qualities through the challenges that Tata faces and overcomes. It focuses on the differences and similarities of people (as represented by the different animals) and how we can use words and understanding to bridge them. There are so many huge life lessons tucked into this small children's book that it is definitely one you'll want to read multiple times, if for no other reason than to choose a different discussion topic each time."
Read more reviews on GoodReads.
Read full The Old Schoolhouse Magazine Review.
Read full Midwest Book Review – review.
Where to buy:
Available on Amazon.
Kingston Book Shop, Kingston, Jamaica
Bookophilia, Kingston Jamaica
Bookstores in St. Kitts
Directly from the author or the publisher.
And while you wait, check out the trailer.