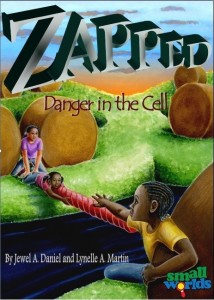 Here's just some of the feedback that we've received. Get your copy from our book store in print or kindle and let us know what you think.
"I loved it. What a wonderful concept and great read. Congratulations. I think it is really a great book for middle schoolers. It is a very complicated and complex topic. You made it much more accessible." Susan Magsamen, Senior Advisor, Brain Science Insitute and Science of Learning Institute, Johns Hopkins University and Creator of Curiosityville.
"What an engaging way to take us on an adventure that is both a great journney, full of twists and turns, and also a great learning experience! Highly recommend for young learners — and parents alike! I learned a lot!" Representative of Port Discovery Children's Museum, Baltimore.
"Zapped! Danger in the cell" written by Jewel Daniel and Lynelle Martin was a delight. The way they illustrated the function of our cells made it easy to understand. My daughter, …, rated the book as an excellent read. In fact, it was so enticing to her that she read through the entire book about three times. It has given her a new found appreciation for the essential role cells play in the body. Zapped, really zapped me. I will recommend this book to all children of specific target age to read. They will develop a most profound understanding of their biological make up. As a matter of fact, I know teachers will utilize this book as a reference material in their class rooms. Thanks Jewel and Lynelle for sharing your interesting insights with us. I anxiously look forward the sequel." Happy parents and children.
This is a great adventure book for young students! It was full of adventure and accurate information for budding scientists. As an informal science educator, I appreciated the fun and engaging approach for teach cell biology to this age level. I hope Jewel and Lynelle continue to write fun and education books together!-Scientist Sarah, Port Discovery Children's Museum, Baltimore Maryland
About Zapped! Danger in the Cell.
When a mysterious machine shrinks Sonya, Lynelle, and Giselle to microscopic proportions they become so small that they slip through the walls of a cell and the three girls find themselves caught up in a roller coaster of an adventure that has them running for their lives.
Do they ever escape?
Get your copy of Zapped! Danger in the Cell to find out!
About the Authors
Zapped! is the first book in the Small Worlds series written by Jewel Daniel and Lynelle Martin. The book is being published by CaribbeanReads and is illustrated by Ann-Cathrine Loo. It is aimed at middle-grade readers and will be available in July.
St. Kitts born Jewel is a cell biologist, author and educator who combines her love for science and books to teach kids about the exciting microscopic world of the cell. She already has three publications under the pen name Jewel Amethyst, A Marriage of Convenience, Holiday Brides, and Pretty Little Liars: Indiscretion. Zapped is her first children's novel.
Lynelle is the star of this show. She is a rising middle school student with an avid interest in science and adventure. Zapped is her debut novel, but she has already written the sequel and plans to work on book 3 this summer.
Buy your copy today on Amazon. For bulk orders please email orders(at)caribbeanreads[dot]com.